Alliance Fact Sheet
July 2023 Data
Sobre la Alianza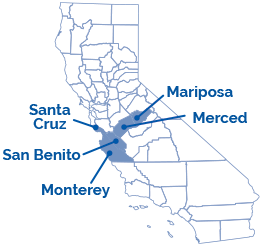 The Alliance is an award-winning regional non-profit health plan, established in 1996, with over 27 years of successful operation. Using the State's County Organized Health System (COHS) model, we currently serve 428,217 members in Merced, Monterey and Santa Cruz counties. We work in partnership with our contracted providers to promote prevention, early detection and effective treatment, and improve access to quality health care for those we serve. This results in the delivery of innovative community-based health care services, better medical outcomes and cost savings. The Alliance is governed with local representation from each county on our Board of Commissioners.
Our Vision
Healthy People. Healthy Communities.
Nuestra misión
Cuidado de salud accesible y de calidad guiada por la innovación local.
What We Do
The Alliance is a health plan that was developed to improve access to health care for lower income residents who often lacked a primary care "medical home" and so relied on emergency rooms for basic services. The Alliance has pursued this mission by linking members to primary care physicians (PCPs) and clinics that deliver timely services and preventive care, and arrange referrals to specialty care.
Who We Serve
Our members represent 43 percent of the population in Merced, Monterey and Santa Cruz counties. We serve seniors, persons and children with disabilities, low-income mothers and their children, children who were previously uninsured, pregnant women, home care workers who are caring for the elderly and disabled, and low-income, childless adults ages 19–64.
Our programs currently include Medi-Cal Managed Care serving Merced, Monterey and Santa Cruz counties, and Alliance Care In-Home Supportive Services (IHSS) in Monterey County.
Provider Partnerships
The Alliance partners with more than 11,631 providers to form our provider network, with 87 percent of primary care physicians and 86 percent of specialists within our service area contracted to provide services to our members. The Alliance also partners with more than 3,603 providers to deliver behavioral health and vision services.
Governing Board
The Alliance's 21-member governing board, the Santa Cruz-Monterey-Merced Managed Medical Care Commission (Alliance Board), sets policy and strategic priorities for the organization and oversees health plan service effectiveness. The Alliance Board has fiscal and operational responsibility for the health plan. In alphabetical order, current Board members are:
​Leslie Abasta-Cummings, Chief Executive Officer, Livingston Community Health
​Supervisor Wendy Root Askew, County of Monterey​
Dorothy Bizzini, Public Representative
Leslie Conner, Executive Director, Santa Cruz Community Health Centers
Maximiliano Cuevas, MD, Executive Director, Clinica de Salud del Valle de Salinas
Julie Edgcomb, Public Representative
Janna Espinoza, Public Representative
Supervisor Zach Friend, County of Santa Cruz
Charles Harris, MD, Chief Executive Officer, Natividad Medical Center
Donaldo Hernandez, MD, Provider Representative
Elsa Jimenez, Director of Health, Monterey County Health Department – Alliance Board Chairperson
Shebreh Kalantari-Johnson, Public Representative
Michael Molesky, Public Representative
Monica Morales, Health Services Agency Director, County of Santa Cruz Health Services Agency
Rebecca Nanyonjo, Director of Public Health, Merced County, Department of Public Health
Supervisor Josh Pedrozo, County of Merced – Alliance Board Vice Chairperson
Julie Peterson, Chief Financial Officer, Watsonville Community Hospital
James Rabago, MD, Merced Faculty Associates Medical Group
Allen Radner, MD, Salinas Valley Memorial Healthcare System
Joerg Schuller, MD, Vice President Medical Affairs, Mercy Medical Center
Rob Smith, Public Representative
1996
Year Established
533
Number of Employees
$870.8 M
YTD Revenue
5.2%
% Spent on Administration
Service Area:
Merced, Monterey and Santa Cruz counties
---
Membership by Program
Total Membership: 428,217
427,547
Medi-Cal
670
Alliance Care el plan de salud para los Servicios de Ayuda a Domicilio
Chief Administrative Officer

Chief Information Officer

The Alliance is a multi-award winning organization for outstanding health plan performance, quality and leadership in health care.
State Quality Awards:
Over the years, the Alliance has received numerous awards including the Department of Health Care Services (DHCS) Quality Awards for performance in the state's annual Healthcare Effectiveness Data Information Set (HEDIS®) measures for Medi-Cal managed care plans.
The recent awards include:
DHCS 2021
Consumer Satisfaction Award for going above and beyond in children's care for medium-sized health plans in 2021
2019
Outstanding Performance for Medium-sized Plan
2018
Most Improved Runner Up for Santa Cruz/Monterey Counties
Innovation Award for Academic Detailing
Customer Service Honors:
DHCS 2011 Gold Quality Award for Outstanding Service and Support
Employer Workplace Distinctions:
American Heart Association 2016 Workplace Health Achievement Gold Level Award as a "Fit and Friendly Workplace"
Second Harvest Food Bank, Santa Cruz County – CEO Cup 2018, 2017; Titanium Award 2015, 2014, 2013
United Way of Santa Cruz County 2018, 2013 Corporate Campaign Gold Award
2020 Certified California Green Business - Program Participant since 2008
2020 Blue Zones Project Approved Worksite
Recognized by the Santa Cruz County Breastfeeding Coalition and Community Bridges WIC for being a model for employee lactation accommodation, 2021